Ads by Google AdSense
93.1 Jack FM - KCBS-FM

Info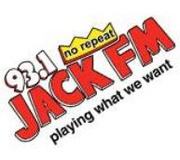 USA

»

93.1 Jack FM - KCBS-FM
Kontakt: Ebetkouchar@cbsradio.com/
Playlist
Nirvana - Smells Like Teen Spirit
vor 4 Minuten.
The Offspring - Gotta Get Away
vor 10 Minuten.
U2 - Where the Streets Have No Name
vor 16 Minuten.
Playlist, tracklist, top songs played coming soon...
PC benötigt den Windows Media Player - Mac benötigt zusätzlich den Real Player - Siehe FAQs für mehr Informationen, wie das live streaming Radio funktioniert.